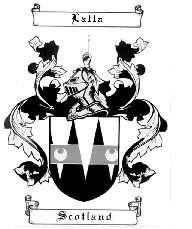 Family of: LATTA
ARMS: Sable, three piles argent, over all on a fesse gules, three crescents of the second.
Crest: An oak tree proper.
Motto: Dum Vivo Vireo (While I live, I live)
Authority: Burke's "General Armory", 1844 edition.
Tinctures: The shield s of black. The three piles are of silver. The fesse is of red. The crescents are of silver. The oak tree is of proper or natural colorings. The wreath, under the crest, is of alternate twists of silver and black. The helmet is of steel color or silver. The mantle is of black lined with silver. The ribbon is of silver, motto lettered in black.
Notes: Burke, highest published authority on the subject of heraldry, records the above described coat of arms, crest and motto - as authentic for the family of Latta; the only coat of arms, crest and motto so recorded in the name.
We hereby certify that the insignia above described is recorded in the published heraldic authority cited above.
MARTIN & ALLARDYCE, P. O. Box 14126, San Antonio, TX 78214 (March 1, 1966)