MISCELLANEOUS INFORMATION
OBITUARIES
Iva Irene Latta (Pickering)
Date of Death Nov. 24, 2002
Iva Irene Latta (Pickering) passed away peacefully at the Strathroy Middlesex General Hospital on Sunday, November 24, 2002. Iva Irene (Pickering) Latta of Parkhill and formerly of London. Beloved wife of the late William "Bill" Latta (1984). Dearly loved by her son Gerald and daughter-in-law Corinne Latta of Nairn. Very Proud "Gammie" to Granddaughter Lianne and her husband Terry Evans of Strathroy and Grandson Trevor Latta and his wife Dianne of Nairn. Dear Great-grandmother to Lauren and Caylin Evans and Cameron Latta. Loved sister and sister-in-law of Eva Taylor of London, Hazel & Lawrence Scott of R. R.# 2 Dashwood, Rena & Orville Truemner of R. R. 3 Parkhill, Grace & Valere Denomme of Arva, Marilyn & Willis Rock of R.R. # 3 Parkhill, Betty & William Coeck of London, Ross & Evelyn Pickering of R. R. # 3 Dashwood, Ken Pickering of R.R. #2 Dashwood, Don & Cathy Pickering of R.R. #l Hyde Park, Leonard & Judith Pickering of London, Bertha Pickering of Parkhill, Marilyn Pickering of R. R. # 2 Dashwood, Joyce Elder of Toronto and Karen Pickering of Ingersoll. Lovingly remembered by her many nieces, nephews and their families. Predeceased by brothers Jack, Harvey, Earl, Glen and Jim Pickering, brother-in-law Bruce Taylor, Parents Elmer & Martha (Baynham) Pickering. Resting at the M. Box and Son Funeral home 183 Broad Street Parkhill where the funeral service will be conducted on Wednesday, November 27th at 1:30 P.M. Rev Marilyn Leuty will officiate. Visitation Tuesday 2-4 and 7-9 P.M. Interment Grand Bend Cemetery. If desired memorial donations to the Heart and Stroke Foundation or the Canadian Cancer Society would be appreciated. Condolences may be forwarded to M. Box and Son will plant a tree in living memory of Mrs. Latta at the Ausable-Bayfield Conservation Parkhill
Glen Latta
Glen D. Latta Jr., 75, of Moline, died in an automobile accident Thursday, Nov. 18, 2004, in Tennessee, while traveling to visit relatives.
Funeral services will be 10:30 a.m. Tuesday at DeRoo Funeral Home, Moline. Entombment will be at Greenview Memorial Gardens, East Moline, with military rites conducted by the Moline American Legion, Post 246. Visitation is 4-7 p.m. Monday at the funeral home. Memorials may be made to Wildwood Baptist Church, East Moline.
Mr. Latta was born Oct. 30, 1929, in Bloomfield, Iowa, the son of Glen Sr. and Vera Hendricks Latta. He married Ruth J. Gardner May 23, 1953. He later married Judith Robinson Oct. 8, 1977.
He was employed at International Harvester, Farmall Works, Rock Island, for 20 years, retiring in 1985, as a heat treat technician. He had also worked at WHBF TV, Rock Island, for 10 years as a video technician.
Glen was a veteran of the Korean Conflict and belonged to the Moline American Legion.
His passion, besides his family, was his 1980 800cc Suzuki motorcycle and he went everywhere with it. He loved to pilot small aircraft and enjoyed traveling and taking adventurous trips. He spent six weeks in Germany, combed the Canadian countryside and marveled at the Alaskan scenery. He enjoyed Blue Grass music and action-packed movies. He loved his family and adored his grandkids, because he was a big kid himself.
Survivors include his wife, Judith; daughters and sons-in-law, Lanette Nation, Milan, Cynthia and Steve Hackett, Milan, Glenda and Dale Krauss, New Albany, Ind., Conny Latta, Mint Hill, N.C.; stepsons and daughters-in-law, Kyle Stanley, East Moline, Mark and Penny Stanley, Ocala, Fla., Craig and Sheila Stanley, Eldridge, and John and Michelle Stanley, Coal Valley. There are 17 grandchildren.
The Sanford Herald, May 25, 2005 (Baltimore, MD)
DANIEL LATTA, Bunnlevel - Daniel Flemming Latta, 30, of Bunnlevel died Saturday (4/30/05) in a motorcycle accident. He was preceded in death by his grandparents, William and Bessie Black; niece, Bessie Ann Bates, and uncle, Jimmy Howell Latta. The funeral service will be at 3 p.m. Tuesday at O'Quinn-Peebles Chapel, Lillington, with the Rev. David McGinnis and the REv. Mark Morris officiating. Burial will follow at Harnett Memorial Park, Lillington. Survivors are: father, Jerry Latta, of Bunnlevel; mother, Lynda Latta, of Tennessee; sister, Jeri Lynn Latta, of Bunnlevel; brother, Joseph Latta, of Bunnlevel; and grandparents, James and Gladys Latta, of Bunnlevel. Memorials may be made to Duke Children's Hospita, Premature Infant Fund, 512 South Mangum St., Suite 400, Glenn Holzatsel, Durham, NC 27701.
ASHLAND TIMES AND GAZETTE, Ashland, OHio
19 Jul 1916
LATTIE, George, formerly of Savannah, died at home in East Liverpool OH, 64y, wife died previously, 2 daughters and 1 son, carpenter, buried Savannah.
and in a later paper
26 Jul 1916
LATTA, George W., born 12 July 1852 Nagley OH, died 15 July E. Liverpool OH, married 21 Dec 1883 Harriet A. McLaughlin who died 23 years ago, 2 daughters and 1 son, 5 grandchildren, (Savannah News), (see previous article).
--------------

First Presbyterian Church, Ashland, Ohio
Members from 1857 - 1925
LATTA, Moses (P) Nov 4, 1876 died 1876
LATTA, Mrs. Jennette (P) Nov 4, 1876 dismissed to German Reformed Church
==
Anyone desiring information on any of the names listed below, contact
> =
> > Russ Shopbell at rshop@zoominternet.net=20
> > a.. WILLIAM LATTA=20
> > b.. MOSES LATTA=20
> > Below are listed the ancestors of the First Families of Ashland County, Ohio. The township they are from is listed with their name. Also the numbers following refer to the list of persons who are the first
> family members and are researching that family.
> > a.. LATTA, Andrew Jackson 1832 Montgomery (81)=20

----------
==============================
Thomas Eugene Latta
Thomas Eugene Latta died Saturday, May 24, 2003, at his home in Vallecito. He was 73. Mr. Latta was born Sept. 8, 1929, in Whitedeer, Texas. He grew up in Delta and graduated from Delta High School in 1946 as president of the student body. He attended the University of Colorado in Boulder and earned degrees in geology and nuclear physics from the University of New Mexico in 1965. He married Charlotte Ann Dent, of Grand Junction, in Montrose. Mr. Latta began his career in Grand Junction with the Atomic Energy Commission where he was employed for many years. He retired from his job as a nuclear physicist for Sandia National Laboratories in 1993 after 32 years. He was a 32nd degree member of the Scottish Rite Freemasonry, of Santa Fe, and an active member of Mesa Lodge No. 68 A.F. and A.M., of Albuquerque, and the Ballut Abyad Shrine in Albuquerque.
Mr. Latta enjoyed traveling, gardening, fishing, mining and geology. He loved spending time with his family and friends. Mr. and Mrs. Latta divided their time between homes in Vallecito and Scottsdale, Ariz. He is survived by his wife, Charlotte; two daughters, Dana Buss of Castle Rock, and Pamela Medley of Albuquerque; one son, Mike Latta of Rock Springs, Wyo.; three brothers, Jim Latta of Eckert, Bill Latta of Delta and Larry Latta of Denver; eight grandchildren, Greg Medley, Eugene Medley, Kimberley Buss, Kyle Buss, Katherine Buss, Ann Dee TulVern, Ernestine Startup and Bea McGee; and numerous nieces and nephews. A Masonic service will be conducted in Albuquerque today at the Ballut Abyad Shrine Temple, 6600 Zuni S.E. at 2 p.m. Services and burial will be 2 p.m., Saturday, at Martin Mortuary 550 North Ave., Grand Junction. In lieu of flowers, the family requests donations be sent to the Shrine Crippled Children's Fund, 6600 Zuni S.E. Albuquerque, NM 87107. Mr. Latta died by suicide.

++++++++++++++++++++++++++++++++++++++
Cemeteries of Washington county Ark. Vol IX 1986-1987

Additions to Tuttle Cemetery, Washington County, Ark
unmarked graves know to be located in Tuttle Cemetery and sent to publisher
by Washington County Historical Society

Latta, Thomas S. age 26 yrs 3 mo 29 days Dec 6,1816 Apr 5,1848
Born in York District, SC
J.L. (initials only) Emigrated to Ark 1832
Latta, Jane wife of John Sept 17,1793 July 20,1851
ab 61 yrs(?) 10 mo 3 days
+++++++++++++++++++++++++++++++++++++
Labanon Cemetery, Tallapoose Co., AL
Lillie Mae Latta; b. Sept. 3, 1912; d. Apr. 9, 1923
Wiley Elliowt Latta; b. Sept. 14, 1884; d. Dec. 5, 1971
Nannie L. Latta; b. Mar. 18, 1888; d. Sept. 13, 1966
+++++++++++++++++++++++++++++++++++++
Waxhaw Cemetery, Mecklenberg, NC (President Andrew Jackson is also buried here)
John Latta; Lay Elder of Waxhaw Church, d. Jan. 9, 1795, age 68
++++++++++++++++++++++++++++++++++++++
Oak Grove Cemetery - Blountsville, AL
Latta, Ruby Sherrer; b. June 11, 1904; d. June 29, 1998
++++++++++++++++++++++++++++++++++
Obits in "Southern Democrat, Blount Co., AL
John Latta, age 71; Issue Jan. 28, 1926
++++++++++++++++++++++++++++++
Jefferson County, Indiana - Wills http://myindianahome.net/gen/Jeff/records/index.html
Latta, Robert (Book A-210) Will written Feb. 19, 1861. Recorded May 21, 1861. Hanover Township; my son, John Brown, one half my property. My wife and brother to be exec.
Latta, Samuel (Book A-10) Will written March 30, 1852. Recorded August 1, 1853. To my sons William H. and Robert Latta, land in SW 1/4 in Section ?, Twp. 3N, Range 9E, also land in Salem Twp., Mercer Co., State of Penn, my daughter, Eliza Jane $1,500, to my daughters Mary and Martha $1,200, my sons to be adm.
Miner, Robert (Book A-202) August 25, 1857....to my grandchildren, Andrew, Robert, David, Spencer, Allen, Mary Jane and William, heirs of William H. and Mary Miner Latta.....
++++++++++++++++++++++++++++++
Jefferson Co., Indiana 1850 Census (North Madison)
Latta, William R., age 50, born in PA
Latta, Rebecca, age 36, born MD
Latta, Sarah T., age 15, born Ind.
Latta, William, age 14, born Ind.
Latta, Maria, age 6, born Ind.
Latta, George, age 4, born Ind.
++++++++++++++++++++++++++++++++++
Elizabeth Latta was the daughter of William Latta. She was
born about 1813 in Ohio and died March 28, 1869 and is buried in the United
Brethren Cemetery in Union Township, Polk County, Iowa next to her husband Robert
Hoyt. Their children were Caroline (b. 1835), Nancy Jane (b. 1837), James (b.
1839), Almira (b. 1844), Mary E. (b. 1846), and Robert C. (b. 1852).
++++++++++++++++++++++++++++++++++
Rachel Latta (1813-1845) married Edward W. Hart (1816-____). Children were Harriet, born 1839, George Washington, born 1841 and Maria Coster, born 1843.
+++++++++++++++++++++++++++++++++++
www.rootsweb.com/~scyork/RevWar/KingsMtn.html
Compensation for Revolutionary Service, South Carolina
"House of Representatives/Annuities, Claims & Pension Reports"
Annuities to persons hurted in service of State:
March 16 - paid John Latta, Jr. - wounded in his left arm on 4 May 79 in Battle with the Enemy at Tulefinny, 8.15.
++++++++++++++++++++++++++++++++++
Detroit - Romague Latta m. Benjamin Strecter Warren, lawyer, son of George P. and Amelia Laurenza (Dunwell) Warren. They were married in Goshen, Indiana on June 29, 1904.
+++++++++++++++
29th Mich. Infantry, Co. I - James Latta or Lattie of Marquette, age 24
+++++++++++
1900 Oklahoma Census, Grant Co., Bluff Twp.
Latta, Henry, age 35, born Jan. 1865 in Indiana
Latta, Blanch, age 28, wife, born Feb. 1872 in Kansas
Latta, Gladys, age 2, dau., born July 1897 in Oklahoma
Braziel, William, age 35, La, born Apr. 1865 in Missouri
+++++++++++++++++++
Leavenworth National Cemetery, Leavenworth Co., Kansas
Latta, John W., d. 03/14/1901, Plot: 15 6 15, bur. 03/14/1901
Latta, Theodore, L., b. 04/29/1920, d. 01/01/1995, US Army Air Corps, TSGT, Res: Columbus, IN, Plot: 46 30 6, bur 01/05/1995
Lattie, John H., b. 11/24/1921, d. 03/03/1988, US Army, SFC, Plot: 41 13 6, bur 03/07/1988
Lattie, John H., b. 12/24/1952, d. 01/08/1993, US Army, PFC, Plot: 41 12 96, bur -1/11/1993
Latta, Robert Merrell, b. 07/01/1896, d. 01/30/1956, PFC DENTAL INF 1 MED DEPT CP DODGE IOWA WHITE, Plat: M 1049, bur. 02/02/1956
Latta, Thelma R., b. 07/10/1902, d. 02/05/1990; Plot: M 1048, bur. 02/12/1990
++++++++++++++
March 28, 1843 VILLAGE RECORD
Marriage On Tuesday evening, the 14th inst., by the Rev. A. Babbit, Rev. JAMES LATTA, of Octorara, Chester county, to Miss ELIZABETH SHIPPEN, daughter of the late Robert Shippen, Esq. of Drumore, Lancaster county. http://www.rootsweb.com/~paslchs/Drumorenews.html
Note: Robert Shippen died Dec. 31, 1840 and is buried in the Chestnut Level Presbyterian Cemetery, as is Rev. James Latta (#1) of Br. 8 and his wife, Mary Alison Latta.

Shippen, Elizabeth. Manuscript on paper, in English. Lancaster County, PA, 1831–42. 8vo (19.7 cm, 7.75"). [134 (approx. 67 blank)] pp.
[SOLD]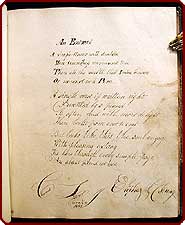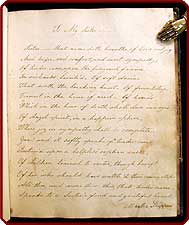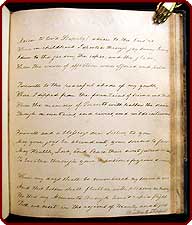 Commonplace book both of transcribed pieces (e.g., Heber, Cowper, Roscoe, Mrs. Barbauld, and Thomas Hayes Bayly, plus bits from
The Christian Disciple
) and original contributions from Miss Shippen and a large number of her friends and relatives. Both the Shippen family and the next-best represented family in this volume, the Puseys, were well established in the greater Philadelphia area by the beginning of the 19th century; and prominent Philadelphians appear here, including Margaret Rhees (wife of Dr. Benjamin Rush Rhees, the first dean of Jefferson Medical College, whose poem "On the Order of the Books of the New Testament" was "Copied [in] by a Friend of the Author"). Other specific place inscriptions include such Pennsylvania locations such as Pottstown, Meadville, Center[re]ville, Fairview, and Mechanics Grove, with outliers such as Wilmington and "Fonte Salutis." An obituary apparently from a Hagerstown, Maryland, newspaper is copied in, and one poem regrets leaving "lov'd Stapely." Two items are dated at "Chestnut Level," i.e., Chestnut Level in Lancaster Co., Pennsylvania; Elizabeth Shippen married the Rev. James Latta (whose similarly named ancestor had been the pastor at the Chestnut Level Presbyterian Church from 1771 to 1801), and one of the several acrostics in this book-one of its last entries - is "An acrostic on the name of an infant, a favourite niece of the author," with the lines spelling out "Margaret Ann Latta." Notable Lancaster family names include Housekeeper, Swift, Grubb, Snyder and Parry.
reading "To Miss Elizabeth Shippen from her aunt Margaret Shippen, Phila[delphia] March 1831."
• Contemporary half morocco with marbled paper sides, leather edges tooled in gilt, spine gilt extra with gilt-stamped title "Album"; binding lightly worn, with extremities rubbed. Two leaves excised, with a few leaves deliberately affixed to one another. Occasional light spotting, generally internally clean.

A remarkable record of the interconnections, thoughts, and literary tastes of upper-crust 19th-century Pennsylvanians.
Provenance: Front free endpaper with inscription
================================
Obituary of Betty Joy Latta
Betty Joy Latta, 77, of Stratton, Nebraska, died Tuesday, March 26, 2002 at Haven Home of Kenesaw in Kenesaw, Nebraska. She was born August 8, 1924 at Wray, Colorado to Albert M. and Zelma B. (Harding) Latta. At an early age, Betty moved with her family to Stratton, Nebraska. She graduated in 1943 from Stratton High School, and worked as a clerk at the grocery store in Strateen for many years. Betty later cared for children in her home for several area families. She was a life-long member of Community United Methodist Church. Even though Betty had no children of her own, she took great pride in those she cared for and loved every minute of their time together. She enjoyed watching television and did embroidery work for many years. Betty is preceded in death by her parents, Albert and Zelma Latta; and brother, Paul Latta. She is survived by sisters, Marjorie Miles of Stratton, Nebraska, Dorothy Baker and husband, Wayne of Hot Springs, South Dakota, Donna Grosse and husband, Bud of Greeley, Colorado; brothers, Albert (Bert) Latta and wife, Redonda, Willard (Bill) Latta and wife, Arda, both of Stratton, Nebraska; and numerous nieces, nephews, other relatives, and many friends. Ms. Latta will lie in state at Forch Funeral Chapel of Stratton Thursday, March 28, 2002 from 10:00 a.m. to 7:00 p.m. (CST). Funeral services will be Friday, March 29, 2002 at 10:30 a.m. at Community United Methodist Church in Stratton with Rev. Norman Prather officiating. Interment will follow services at Rose Hill Cemetery. In lieu of usual remembrances, memorials may be given to Stratten Ambulance or to Grandview Retirement Center. Arrangements are under the direction of Forch Funeral Chapel of Stratten. (**Would she be the granddaughter of Earl Albert Latta of Denver, Colorado [#420 of Branch 3]???)
++++++++++++