Branch No.19
No Branch Captain. Volunteer needed.
.......................................................................................................................
LAST NUMBER USED: 16
.......................................................................................................................
May connect to Note X and Branch 8. See History of the Allision Family and their migration from Ireland to America. And from Pennsylvania to Mechlenburg, North Carolina.
http://archive.org/details/historyofalisono00morr


1 JOHN (1) LATTA

On April 18, 1738, a tract of 170 acres in Hempfield Township, Lancaster County, PA was surveyed for "John Latey" and a warrant to accept the survey was dated August 4, 1744 by "John Lata," patentee. The Warrant and survey listed him as "John Latey." If the Latta brothers came to America in 1738-39, was this John Latta in America before the "shipwreck" Latta families came? This survey was in the spring of 1738.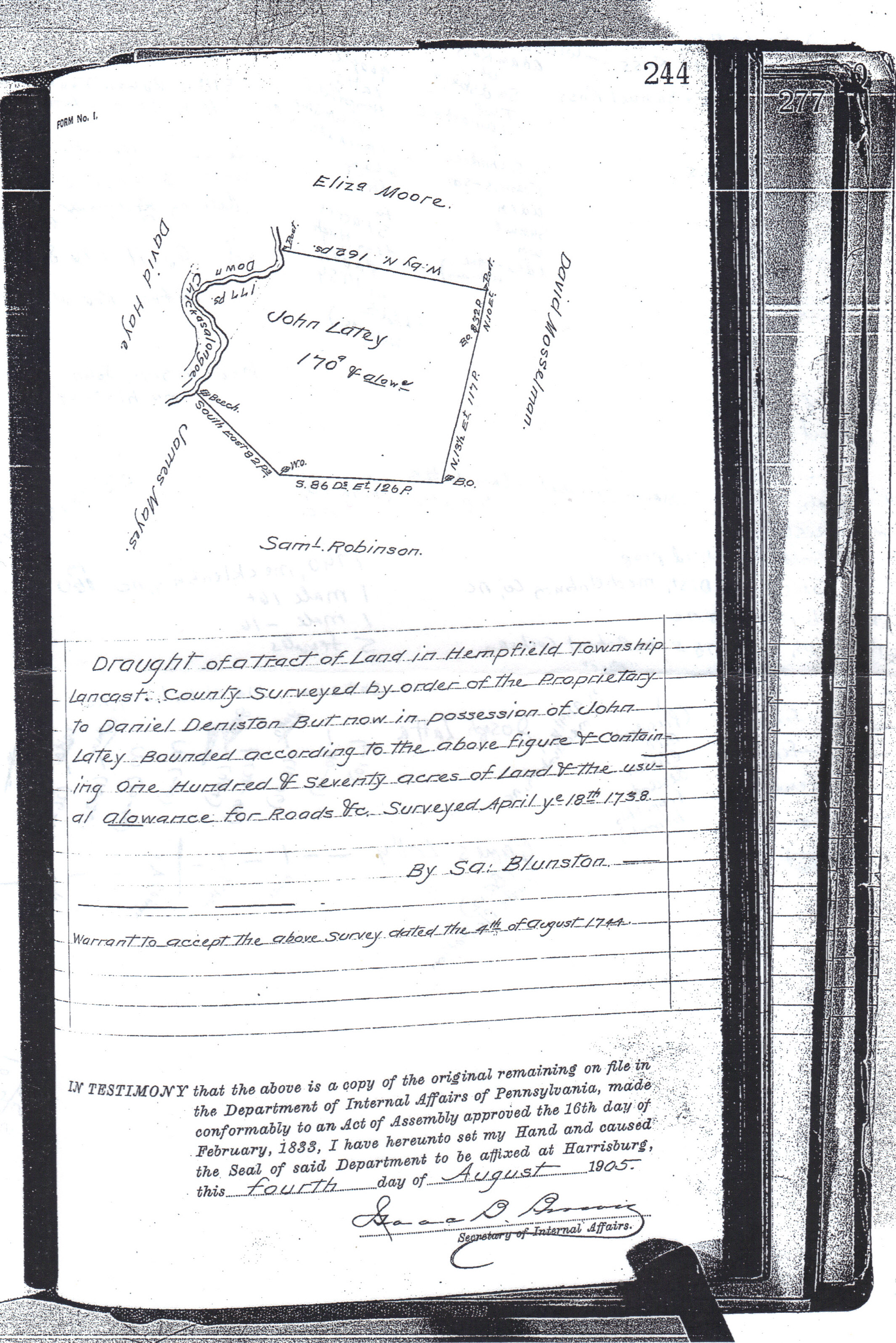 PA State Archives, 350 North Street, Harrisburg, PA 17120-0090
Will Abstracts 1729-1819: Lancaster Co, PA
ROBISON, SAMUEL Hempfield Twp. (Note that this is John Latta's neighbor on the above survey)
October 6, 1750 October 18, 1750
Wife: Margaret Robison.
Children: James, Samuel and Nancy.
Ex.: Patrick Cambel and John Latta.
LATTA, JOHN Twp. not given.
April 16, 1768 April 29, 1768
Children: Alexander, John, Thomas, Jean and Joseph.
Stepsons: Samuel and William Rose.
Grandchild: John Latta (son of Thomas).
Ex.: Margaret Latta.

Lancaster County, PA Tax List 1751 lists John Lata, Hempfield Twp.
Lancaster Co., PA Tax List, PA Arch, 3rd Series
1771 Hempfield, Lata, widow, 200, 0H, 1C
1772 Hempfield, Lata, widow, 150, 1H, 0C
John Lata then bought Samuel Robison's tract of land beside him from Hugh Paden in 1754.
John Latta married Mrs. Margaret Ross, widow of Adam Ross (d. 1749) of Sadsbury Township (Sadsbury Township was divided in 1744 into Sadsbury and Bart Townships), Lancaster Co., PA. Margaret had five children before her marriage to John Latta, namely Francis, Adam, Samuel, William, and a daughter Elizabeth. John Latta died in April 1768. Will was dated April 16, 1768. Probated April 29, 1768. In a History of Hempfield Township, Westmoreland County, PA, it states "From 1783 to 1816, "it was necessary for those who worshipped there to bring their rifles to church with them in order to protect themselves and their friends from the attacks of the Indians." Adam Ross moved to Georgia, as did a David Latta (maybe David Latta, son of this John Latta)
Branch Captain Ellen Rowan notes: I just received the will and estate file of John Latta, 1768, from Lancaster PA. His wife's name was Margaret, and she had 4 sons by
a previous husband, whose names were Francis, Adam, Samuel and William Ross, and a daughter Elizabeth. Adam Ross died in 1749. (Will Book J, page 211) Adam Ross' will was written in 1739, and probated in 1749. John Latta's children were, Alexander, Thomas, Joseph and Jean. The will mentions the heirs of his son John Latta, and "Robert the son of David my grandson" I'm not sure if that means that David was his son or his grandson. He also mentioned John Latta, son of Thomas. That John was born in 1762, if the information I have is correct.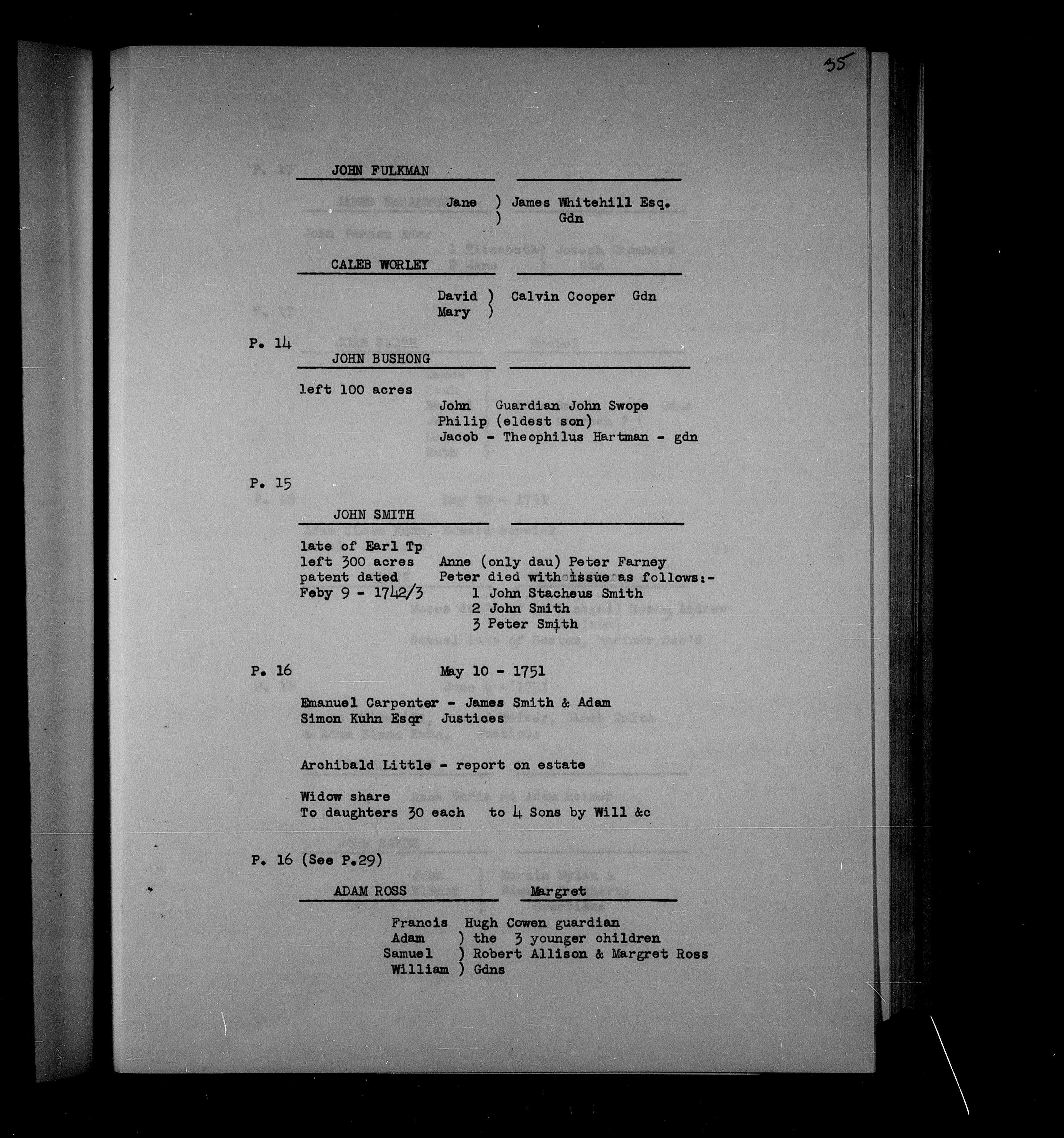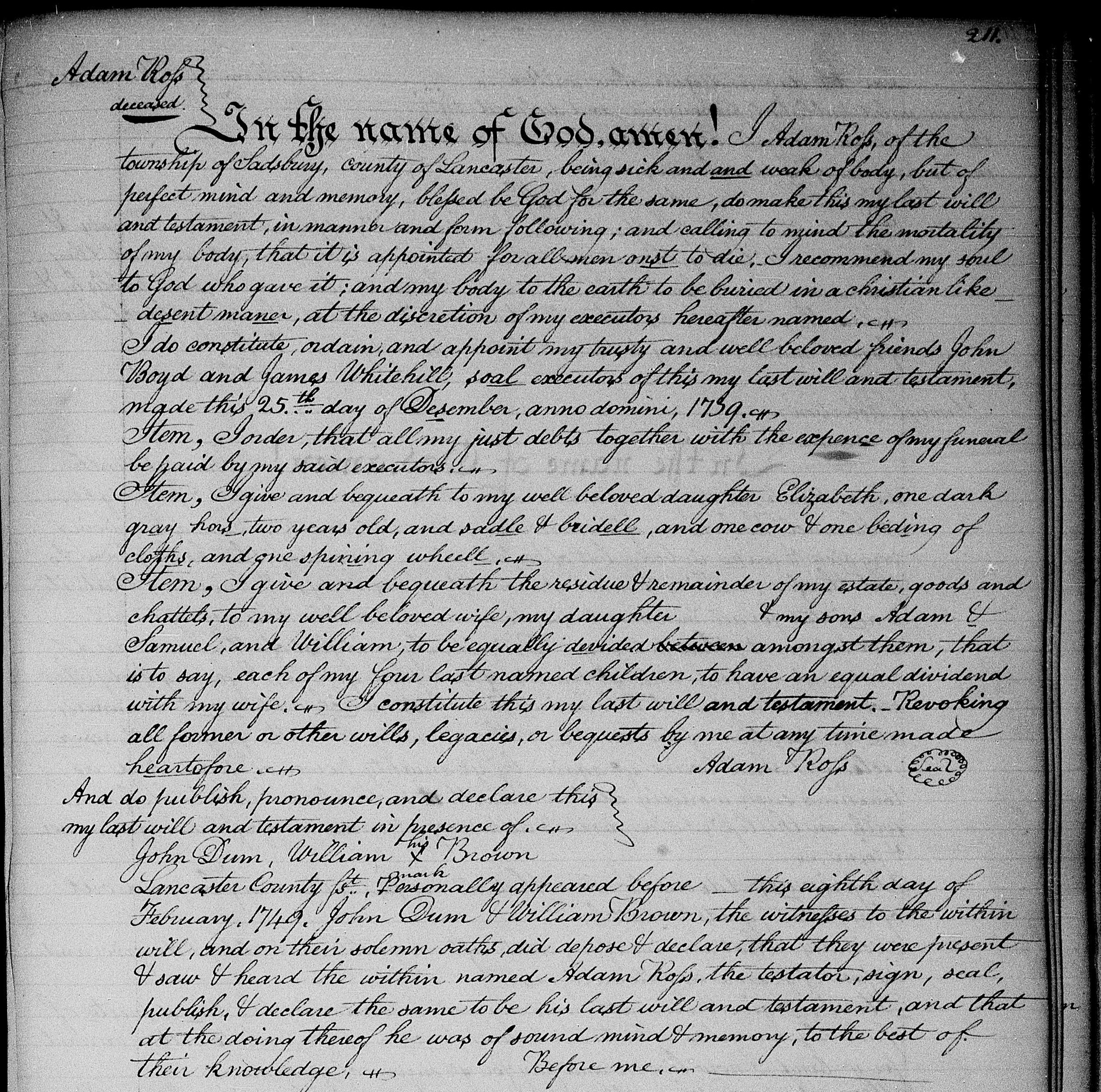 John Latta was one of the Teamsters and Quartermaster in Braddock's English Army at his defeat by the French and Indians in 1755. He lived along the Big Chickie, Lancaster Co., Pa. His Will mentions two of his stepsons, Samuel Ross and William Ross. The witnesses were Alexander Scott, Ephraim Moore and John Hays. * Taken from the Notes and Queries, By William Engle of Harrisburg, Pa. 1893. 4th Series, Vol. 1, page 62. The Penn. Archives, Series 3, Vol. 26, 1771. He states: Mrs. Latta was taxed 10.0 on 200 acres of land and one cow. A John Latta (Supposed to be this John Latta) was one of the Rangers of the Frontier of Pennsylvania, after the French War. General Daniel Morgan, who organized and commanded the celebrated Morgan Rangers and Rifleman, during the Revolution, was also a Teamster under Braddock at the same time with John Latta. They must have been acquainted.

Six Known Children taken from the US Mennonite Vital Records, Lancaster Co., PA - 1768-Hempfield (order listed: Alexander, John, Thomas, David, Jean, Joseph):
2 THOMAS (2) He may be the Thomas Latta in the 1790 Census in Chester County, South Carolina.
3 DAVID (2) He may be the David Latta in Branch 28, and in the 1790 Census in Pendleton County, South Carolina.
4 JOSEPH (2) b. before 1755
5 ALEXANDER (2) (No History)
6 JOHN (2) (No History)
7 JEAN (2) (No History) There is a William Ross who died in York Co., PA in 1777. In his Will, he lists his wife, Jean, and children, Martha, Jean, Alexander, Mary, William, James, Elizabeth, and Ann. The Executors were Alexander Ross, John Nesbit, and William Porter. (Was his wife Jean Latta?)
The only DAVID LATTA found in the Revolutionary War is a David Latta in the 10th Pennsylvania Regiment. He deserted at Valley Forge on May 13, 1778. If he is the same David Latta from Branch 28, then he may have deserted because he knew his wife was having twins and he headed home. The Branch 28 David Latta moved to South Carolina and joined the militia there:
10th Pennsylvania Regiment, in Pennsylvania Packet, May 13, 1778
David Latta, about 20 years of age, 6 feet high, slender male, of a fair complexion, and born in Pennsylvania.


2 THOMAS (2) LATTA

John (1). Born____Died____ Married________ Had at least one child.
Children:
8 JOHN (3) (No History) They may be the Thomas Latta and John Latta found in the 1790 Census for Chester County, South Carolina.


3 DAVID (2) LATTA

John (1) Born____ Died____ Married________ Had at least one child.
Children:
9 ROBERT (3)


4 JOSEPH (2) LATTA

John (1). It is thought he Married Miss Nesbit. In 1778-1779 two deeds show that he sold land in Hempfield Tp., left him by his father. He then lived in Salsbury Dist. Mechlenburg Co., N.C. His name is listed on a petition dated 22 Mar 1778 to the General Assembly from inhabitants of Mecklenburg County concerning an act that allows individuals to obtain large quantities of land.
The 1790 Census for Mecklenburg, NC shows Joseph Latta: 1 male over 16, 1 male under 16, and 5 females. The 1800 Census for Mecklenburg, NC shows Joseph Latta: 1 male 10-16, 1 male 16-26, 1 male 45+, 2 females under 10, 3 females 10-16, 1 female 16-26, and 1 female 26-45.

Children:
10 JOHN (3) b. About 1779 in Salisbury Dist., N.C. In the census of 1790 he was listed as under sixteen years of age. Married Margaret Woodsides on February 5, 1803 in Cabarrus Co., N.C., according to a marriage bond filed in that county., Witness, Robert Cochran.
11 ELIZABETH (3) b. September 4, 1785; m. Robert Cochran in 1804. Went to Perry Co., MO., in 1833. Two Children: Eleanor Cochran b. December 20, 1805 Married David Luckey, April 15, 1824. Robert N Cochran b. about 1807. After the death of her Husband Robert Cochran she married John Stevenson in Rowan Co., N.C. July 23, 1811. Children: Mary Stevenson who married Mr. Bell in 1838, Elizabeth Stevenson married James Hope in 1841, Adaline Stevenson married Joseph McLane in 1844, Sarah Stevenson married Lee A. M. McPherson in March 16, 1846. They had James, John and Three daughters (Names unknown)
12 ESTHER (3) b. about 1777 , married Ephraim Pharr (record spells it "Farr") in Mechlenburg Co., N.C. July 14,1801 (US President Bill Clinton descends from this line) Children: Mary, Elizabeth, Jane, Margaret, Ann, William Latta Farr, John Lewis Farr, Joseph Eliel Farr, and James Haram Farr. Esther died August 21, 1832 in Rutherford Co., TN.
13 ________(3) Female b. About 1793
14 ________(3) Female b. About 1788
15 ________(3) Female b. About 1790
16 ________(3) b. Son under 16 years (1800 census) May be William A. Latta who married Camilla C. Torrence on June 24, 1834 in Mecklenburg, NC; bondsman - Hugh Torrance.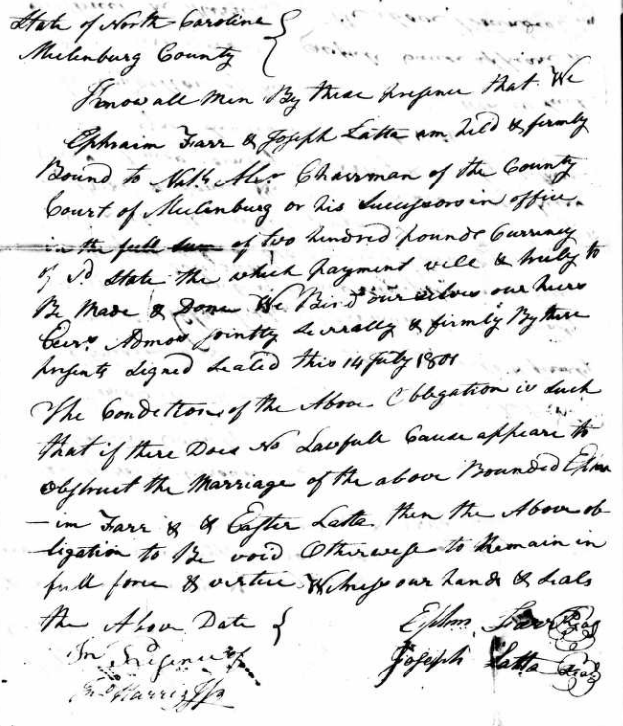 9 ROBERT (3) LATTA
David (2) John (1).

______________________________________________________________________________

THIS IS THE END OF THE BRANCH..............................NOTES BELOW
______________________________________________________________________________